L'Auberge de Cartassac
Authenticity and conviviality…
" Ethel and Jérôme Eugène will welcome you with a smile in an authentic and convivial place… adapted to the accessibillity of disabled persons. "
" We are happy to announce to you that the Auberge de Cartassac has been given her third star in the tourist hotel ranking. "
Perfectly situated in the north of the Lot region in the town of Sarrazac, l'Auberge de Cartassac is at the crossroads of splendid villages like Turenne, Collonges and Martel, close to Raxamadour and Padirac, only 20 km away from Brive la Gaillarde.
Rural hotel, gastronomic and family kitchen, tourist stop, good place to stay for business men, l'Auberge de Cartassac has it all… An elevator is at the service of disabled persons. You can use the free parking for your car or coaches.
After a second phase of renovation that has taken place during the winter of 2013/2014, l'Auberge de Cartassac now has a Lounge Bar and a room where breakfast is served. The rooms are all equiped with a shower (except the room for disabled persons), a hair-dryer and a self-service corner to prepare some warm drinks. The beds have been improved with a double mattrass. Other improvements will be done soon, to make your stay even more pleasant and satisfying.
Stays
Comfortable rooms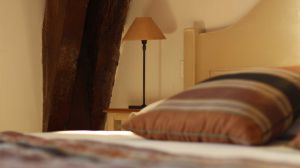 Our hotel has got 13 comfortable rooms, decorated with taste and refinement. You have a choice between the economic bedroom, the double bedroom, a three persons bedroom or the family suite, whichever suits best to your wishes.
Quality restaurant
Gastronomy and conviviality
L'Auberge de Cartassac offers you home made products and cooks only with regional products. Discover our menu, local specialties and treats.
Groups
Offers coaches and clubs
Our hotel has an adapted logistics to receive groups that arrive in coaches or clubs. On the big parking lot you can park 2 coaches, lunch break, special group menu especially for tourist companies…